Even though it's the first week of August, I'm sure your little ones are still bursting with summer energy. Browse Camperoo's August programs in the greater Chicago area for one last hurrah before it's back-to-school time!
And, if you're trying to make some weekend plans for the family, we've got you covered! Here are some exciting things happening in Chicago this weekend:
Tie Dye Party in the Park
Take the family to Lincoln Park Saturday morning (August 10) for a Tie Dye Party in the Park. Hosted by Hotel Lincoln from 10am to 12pm, this free event invites kids, adults, and dogs to give a psychedelic twist to their newest or oldest plain white tees. This is a great opportunity to make a back-to-school fashion statement for the kids or for parents to design a knockabout shirt for yard work. And, if it happens to rain, the event will be moved inside to the Hotel Lincoln's Clark Room. Rain or shine, it's time to tie dye!
Kite Festival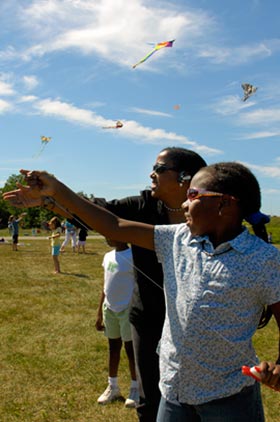 If you're looking for somewhere to sport your newly crafted tie-dyed shirt, head over to the Kite Festival at the Chicago Botanic Garden. The festival runs from 11am to 4pm this Saturday, August 10 and Sunday, August 11. It includes children's kite-making workshops, kite demonstrations and performances by the Chicago Fire Kite Team, and a Kids' Mad Dash where the first 30 kids to sign up receive a kite to build and fly in the competition. Admission is free, but be sure to take some cash for food and beverages, or pack a picnic and some snacks!
Creatures of Light: Nature's Bioluminescence
If you're looking for a fun and educational family outing for the little ones, the Field Museum is playing host to a thrilling exhibit, Creatures of Light: Nature's Bioluminescence. Fireflies, fishes, glowworms, and mushrooms are just a few of the thousands of living organisms that blink, glow, flash, and flicker. The exhibit runs through January 5, 2014, but, as we know all too well, time flies, so plan your visit soon! And, once you're home from an exciting day at the museum, create your own glowing magic in a jar!
There are plenty of fun events in Chicago for the kids and family, what are your plans? Let us know! Leave your suggestions or the Chicago summer events we mentioned that you'll be attending in the comments section.